WEBINAR
Introducing the R2 Network: Addressing the Nation's Disaster Response & Resiliency Challenges
DATE AND TIME
Tuesday, November 10, 2020
1:00 PM – 2:00 PM ET
WEBINAR
Introducing the R2 Network: Addressing the Nation's Disaster Response & Resiliency Challenges
With the COVID-19 pandemic and rising natural disasters, strengthening response and resiliency innovation is as critical today as ever. The EDA, in collaboration with NIST and FirstNet, created the Accelerate R2 Network challenge to help address the nation's most pressing disaster response and resiliency (R2) challenges with innovative technologies.
A public-private partnership between RapidSOS, Responder Corp, Orleans Parish Communication District, and Western Fire Chiefs Association were awarded the grant last month. Now, the partners are working together to form a national, free-to-use, and self-sustaining Response & Resiliency Network that brings stakeholders together for a common goal: to support innovators and agencies in empowering first responders with the tools and technologies they need to stay safe and protect our communities.
The R2 Network will consist of a three-part approach:
R2 Learn: Resources to educate entrepreneurs and public safety departments on the unique challenges and opportunities of the public safety markets.
R2 Portal: An online solution innovators and departments can use to source, vet and commercialize or deploy new technology.
R2 Connect: Programming and events to create strategic exchange and enable the community to share, learn and adopt best practices and new technology.
Join this webinar to learn more about the R2 Network, how it benefits both first responder agencies and entrepreneurs, and share your feedback and ideas for how to make the network the best it can be.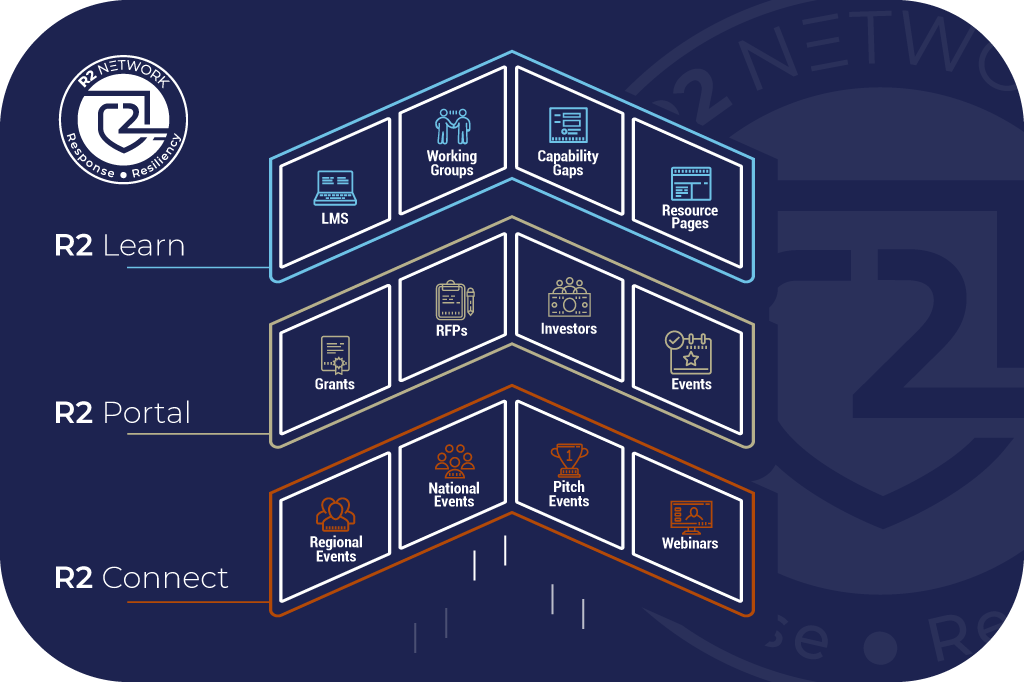 OUR MISSION
About The R2 Network
The R2 Network, a challenge put forth by the Department of Commerce and FirstNet Authority, is a public innovation program backed by a $2mm federal grant. Created out of a need to face the nation's most pressing Response and Resiliency challenges, the R2 network will deliver resources, tools and opportunities to entrepreneurs and first responders to commercialize and deploy new technology.